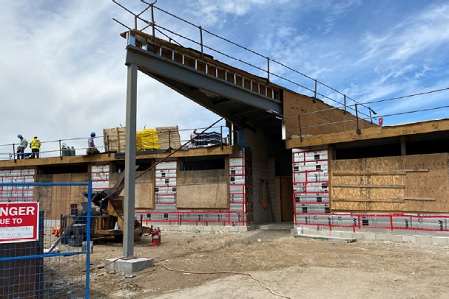 Featured Project
St. Mary's School Classroom & Daycare Addition
Integrated Engineering provided mechanical and electrical engineering for this new 10,000 sq. ft. addition to this existing school. This new addition ties into existing systems and provides new lighting control systems to help with increased learning throughout the day.
| | |
| --- | --- |
| Location: | Listowel, ON |
| Completion Date: | Late Summer 2020 |
Featured Project
SOUTH HURON DISTRICT HIGH SCHOOL
Integrated Engineering provided the mechanical and electrical engineering renovations at South Huron District High School in Exeter. The existing science room on the first floor was renovated into a new cosmetology room. Using existing mechanical and reworking equipment, along with electrical providing new devices integrated within the new millwork. On the second floor a new washroom and electrical closet were added.
| | |
| --- | --- |
| Location: | Exeter, ON |
| Completion Date: | December 2018 |
Featured Project
UWO: ICFAR RESEARCH BUILDING
ICFAR: The Institute for Chemicals and Fuels from Alternative Resources, is a research institute within the Faculty of Engineering at The University of Western Ontario. ICFAR was established in January 2008. INTEGRATED ENGINEERING was proud to work on this new 20,000-square-foot research centre, located just a few minutes north of the City of London which officially opened on October 16, 2009.
More Projects
Colleges & Universities

UWO: Alumni Hall Renovations
UWO: Ivey Business School Renovations
King's College: Conversion of Library to Classrooms
UWO: Day Care Expansion
Huron College: Renovations
Huron College: New Laundry Facilities
Fanshawe College: Block B Ventilation Upgrade
Fanshawe College: Block A Renovations
Fanshawe College: Block E Renovations
UWO: Renovations to "The Spoke"
Huron College: Guidance Office
UWO:Engineering Science Building Renovations
UWO: Backflow Structures
UWO: Galleria Mall Classrooms
UWO: UCC Student Medical Renovations
UWO: Dental Science Building Renovations
UWO: Dental Science Building Renovations
Huron College:Helmuth Residence HVAC Upgrade
Université de Hearst, Hearst: Condition Study
UWO: ICFAR Research Building
College Boreal: Trades Complex
UWO: LIDAR Weather Research Building
College Boreal: Performing Arts Theatre

Primary & High Schools

Goderich District Collegiate, Goderich: Washroom Renovations
Shakespeare Public School, Shakespeare: Washroom Renovations
Montessori, London: Renovations
Beal SS, London: Renovation & Expansion
St. Mary's DC & VI: Classroom Renovations
New Credit School: New School
Listowel DSS: Computer Room Air-Conditioning
St. Mary's DC & VI: Science Labs
Upper Thames School: Renovations
Northwestern SS: Science Labs
Medway HS, Arva: Renovations
O'Gorman HS, Timmins: Addition
St. Gerard, Timmins: New Daycare